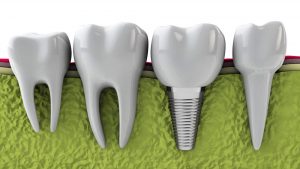 According to the Australian Institute of Health and Welfare, the average Australian adult is missing around five teeth. However, tooth loss is common, and it can happen as a result of trauma and disease. But, it doesn't mean that you have to spend the rest of your life with missing teeth.
Today, dental implants are extremely popular in the market, as they are the only permanent solution to a missing tooth. While dental implants are a popular choice for replacing a missing tooth, unfortunately, if your teeth have been missing for a long time, bone grafting becomes necessary for receiving dental implants.
What causes bone loss?
When a tooth is missing, there is no more stimulation, and it could slow the replacement rate and cause the bone volume to decrease gradually. The jawbone could get reduced to about 25% during the first year and several millimeters in height after just a few years. Though dentures can restore lost function and appearance, they can't duplicate this needed stimulation. They also tend to reduce bone loss by irritating and creating forces on the bones and gums they rest upon.
What are dental implants?
Dental implants are titanium screw that is inserted into the jawbone. The embedded titanium post is made of a biocompatible component that attracts bone cells to grow and adhere to its surface. So it increases bone density at the site. The affordable dental implants replace the root of a tooth and form a sturdy foundation to hold the crown or bridge.
Bone grafting for dental implants
Bone loss can be problematic for anyone wishing to replace their missing teeth with dental implants, as there may not be sufficient bone to support an implant. So, this is where bone grafting plays a vital role to help receive dental implants.
Your dentist may recommend bone grafting procedure prior to dental implants that affect the dental implants cost as well. Bone grafting is a procedure of adding bone to your existing jawbone to hold the implant securely in place.
Though bone grafting is a surgical procedure that can be sometimes extensive, it plays a vital role in making new teeth possible. So, if you have bone loss due to missing teeth, then you bone grafting procedure becomes necessary.
Based on several factors, there are potentially four bone graft options.
Using your bone
Using donated bone
Using animal bone
Using synthetic bone material
Additional procedures like bone grafting, sinus lift, and tooth extraction affect the overall cost of dental implants. Visit your dentist and find out your options to receive affordable dental implants.